Nativity Catholic School Fine Arts
Natvity Catholic School has a very active Fine Arts Department! A large 4th/5th grade choir and middle school choir perform at school assemblies, school and parish liturgies, and in the community. Singing engagements at St Augustine's Home for the Aged and Greenwood Park Mall, as well as Catholic Schools Week masses and the Volunteer Breakfast make this a popluar class in which to participate. Nativity students participate in th annual CYO music competition at Bishop Chatard High School featuring insrumentalists and soloists. Band is available to students in Grades 6-8 and is taught be a teacher from Roncalli who travels to several South Deanery schools to develop band programs.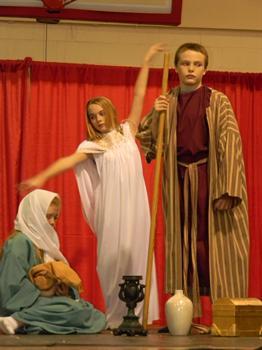 In addition, Nativity students are involoved in several school performance throughout the year.
**Fall Talent Show is open to all students.
**The Spring Play
**

Christmas Show

performed by Kindergarten - 5th Grade and the Band
**March Middle School Musical by any interested 6th-8th grade student
**Spring Program featuring the choirs and the band